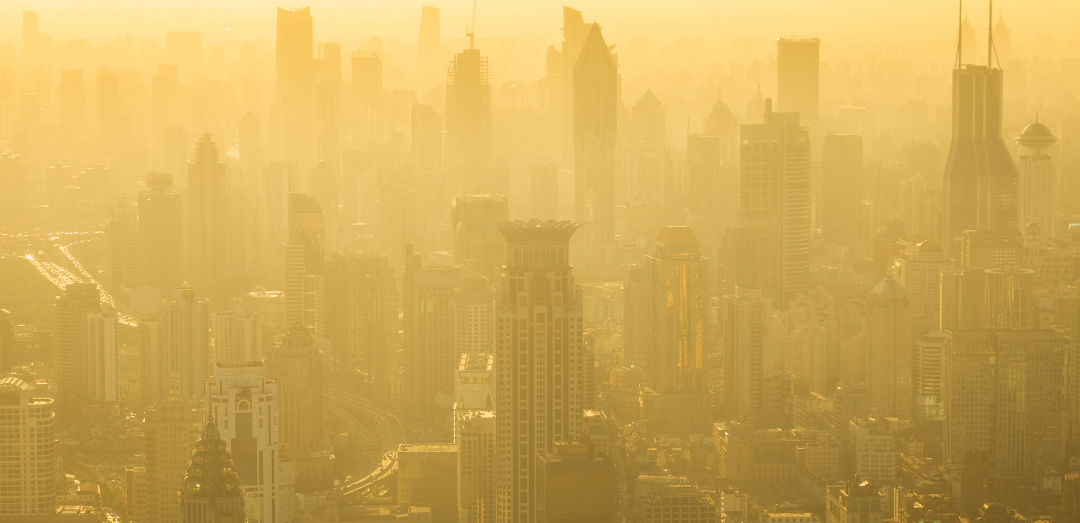 Beginning of our new normal: COVID-19
The World Health Organization, or WHO, declared COVID-19 as a global pandemic on March 11, 2020. Everyone remembers where they were that day. I know I do. Sports stopped. Social events were canceled. People scrambled for toilet paper and food without knowing when this pandemic would end. 
The Centers for Disease Control and Prevention, or CDC, defines a pandemic as an "event in which a disease spreads across several countries and affects a large number of people."  
On March 13, 2020, COVID-19 was declared a national emergency by the United States Federal Government. 
On March 15, 2020, the CDC issued its guidance to limit social gatherings to 50 people for the following eight weeks. 
From March to May, Americans stayed home. States, counties, and cities issued blanket stay-at-home orders for non-essential workers and most citizens. This was the beginning of our lives being dramatically upended.  
You might be thinking, so what does COVID-19 have to do with Zero Waste? Where is the connection? Well, the global pandemic revealed that in times of stress, our society can come together and grow. However, the pandemic also exposed areas of weakness.
Air pollution and COVID-19
One of the positive effects of the stay-at-home order was an unexpected impact on air pollution over Europe. The European Space Agency, or ESA, uses air monitoring instruments to determine the influence of air pollution on our climate.
One pollutant, nitrogen dioxide (NO2), is toxic to human lung function. It is produced from industrial facilities, power plants, and vehicles. Here is where it gets really interesting: when you compare the 2019 pre-COVID levels of NO2 in the atmosphere to April 2020's NO2 levels, you discover a significant decrease of 45% in major European cities. Paris saw a decrease of 54%! These measurements occurred during a strict quarantine period in Europe—stricter than the United States' national stay-at-home-order. 
Examine the photos below. In these photos, red is the toxic NO2. You'll see significantly more red in the 2019 photo, compared to the image from 2020.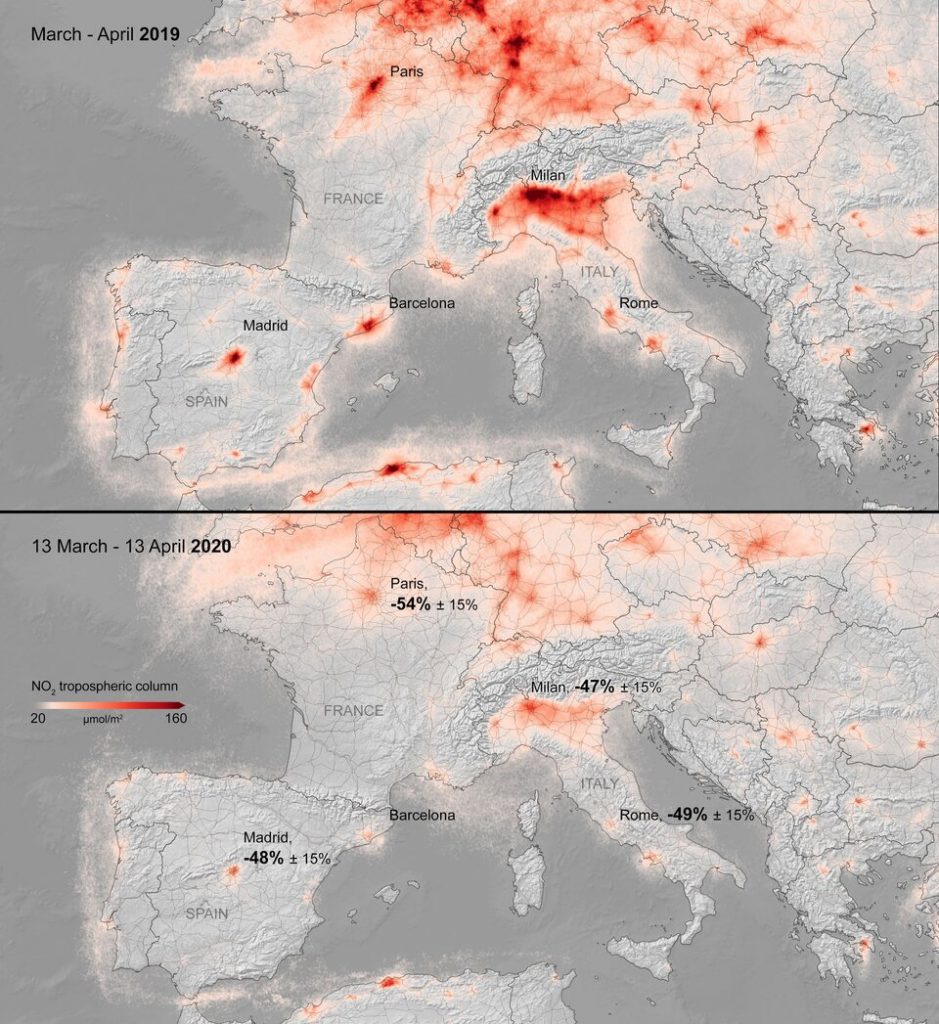 Significant decreases in NO2 were also measured over China.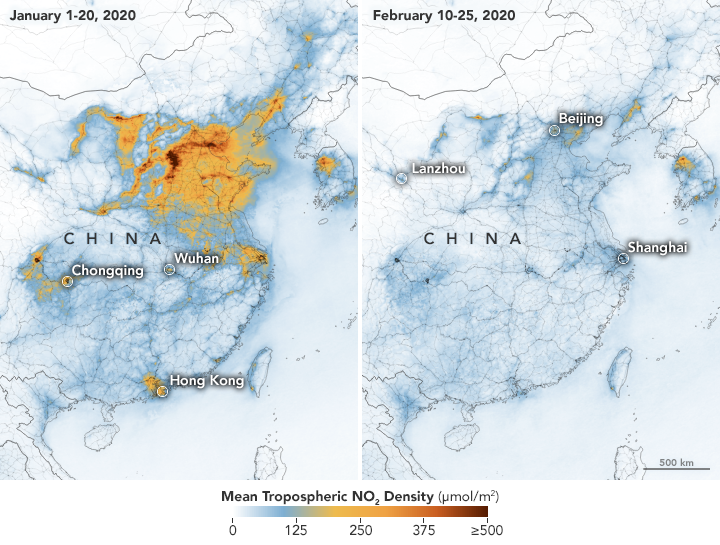 These photos tie together the cause and effect human activity has on our planet. Our daily waste and excessive pollution drive our planet's climate to warmer temperatures and changing weather patterns. Just a small change in our planet's temperature can have devastating, life-altering effects. 
These images show what our society is capable of when we adapt to survive. We need to treat the threat of climate change the same way.
Waste management and COVID-19
Samuel Asumadu Sarkodie and Phebe Asantewaa Owusu are academics at the Nord University Business School in Norway. In August of 2020, they published a study evaluating the repercussions of waste management during the COVID-19 global pandemic. 
COVID-19 brought clear benefits to the weather patterns and our climate. Reduced traffic resulted in less greenhouse gas exhaust by people like you and me. While we stayed home, single-use products and plastic usage skyrocketed. From masks to PPE, people feared for their country's stability and supply chain. So, people began to overbuy single-use goods. Any efforts to curb and eradicate plastic pollution in our day-to-day lives were tossed out the window in favor of our individual survival. 
Now more than ever, we know the human race's ability to adapt to an ever-changing threat. Some of those changes are for the better. Others? Not so much.
The IPCC's sixth assessment report, Climate Change 2021: The Physical Science Basis, evaluated that while there was permanent harm to the planet, future destruction could be stopped. 
The global stay-at-home orders and quarantines demonstrated our daily actions can be modified to cut down on the excessive pollutants that harm our planet. It is possible. But it takes a global effort. It takes great political will and coordinated effort to pull together resources and work toward a shared goal. 
And yet the menace of the years finds, and shall find, me unafraid. It matters not how strait the gate, How charged with punishments the scroll, I am the master of my fate—I am the captain of my soul.
An excerpt from
Invictus
, William Ernest Henley
Is the road ahead difficult? Yes, it is, but it is possible. This is the reason for not giving up—to keep moving forward and bring others along the journey with us.
Let's go green.